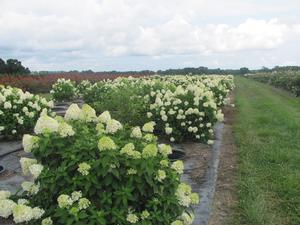 March 27, 2020
Covid-19:

We understand the tragedy that is the current pandemic. We also understand if you have a current early (March/April) spring order and if you need to reduce or cancel that order. We do request that you let us know as soon as possible if you don't anticipate being able to take some or all of the plants on your early spring order before the end of April. We are still shipping and would need to at least try to find other homes for those plants. Much of the space that these plants occupy has to be emptied before the end of April to make room for spacing out the next crop. If not emptied by shipping, then we will have to start throwing out some plants.

One other option for existing early spring orders is that many plants (but not all) can be moved from an early spring order to an after flush order. Plants on late spring (after flush) orders are typically ready around mid May. Please let us know if you want us to look at your order and let you know what plants can be moved to late spring.

 

Shipping:

We are shipping throughout our normal delivery area.

 

Existing Spring Orders:

If you have an existing spring order, then please let us know what week you would like delivery if you haven't already let us know.

 

Current Availability

: Current availability is attached.

May/June Availability. We do also have an availability that includes late spring. These are plants that need one flush to get ready. These plants depending on variety and spring weather are expected to be ready from early May to early June. Most (but not all) get ready by mid May. Let us know if you would like a copy of the availability that includes late spring plants.

 

Specials:  Single page specials list is also attached of plants that are 20% off.

 

Normal delivery area:  Virginia to Maine along the east coast is our normal delivery area. We are delivering throughout this area almost every week from spring through fall. An order placed by end of the day Monday can almost always be delivered that same week.

 

Minimum Order(from mid March through early November weather dependent): 

Minimum order for delivery is $1500. ($2500 for NH and $4000 for ME)
Minimum order for pickup is $500.

 

Other delivery areas: We make infrequent deliveries as far west as Kansas and Michigan. Pittsburg, Cincinnati, Cleveland, Columbus, Indianapolis, Chicago, Kansas City and Detroit are some of the cities that we deliver to. $5000 is typical minimum to make freight reasonable.

 
Download Additional Information