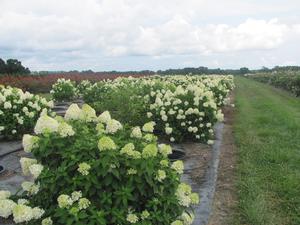 December 12, 2017
Current Availability:  Current availability is attached. 
Spring Availability:  Spring availability is also attached.  It is still a work in progress; but based on the number of requests that we are getting for it, we have decided to go ahead and send what we have so far.  Quantity is divided into two columns.  Early is plants that are ready now and must be delivered by the end of April.  Late is plants that need one flush of growth to get ready.  These plants are typically ready mid to late May.  Spring orders will be acknowledged right after Thanksgiving.  This is when fall shipping has almost finished and we have our spring inventory counts on the computer.
Minimum Order:  Minimum order for delivery is $1500. 
                                      Minimum order for pickup is $500. 
Normal delivery area:  Virginia to New Hampshire is our normal delivery area.  Orders placed by Monday can almost always be delivered that same week throughout the northeast.  This is true from March through October.  Deliveries into more northern areas become more difficult as we get into November.  Deliveries in all areas are more difficult in December although we are typically shipping until around mid December.
Other delivery areas:  We make infrequent deliveries as far west as Kansas and Michigan.  Pittsburg, Cincinnati, Cleveland, Columbus, Indianapolis, Chicago, Kansas City and Detroit are some of the cities that we deliver to most years.  $5000 is typical minimum to make freight reasonable.  We aren't able to use our own racked trailers, but we do typically get good freight quotes for one way floor loads because trucks are usually happy to get any sort of load heading west.
Contact info:
Dawn Clark (Office Manager)
757-442-7000          757-442-5504 fax
P.O. Box 926, Exmore, VA 23350 (mail)
3339 Mount Hope Road, Exmore, VA 23350 (UPS/FedEx)
Download Additional Information